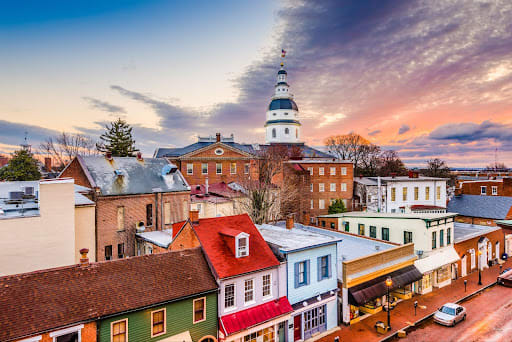 Buying a new home is an exciting time. There are many reasons why buyers are thrilled to move. Moving allows you to experience a new location or find a home that better suits your lifestyle. However, embarking on buying a home can also be stressful. Everything from finding the perfect neighborhood, making an offer on a home, and navigating the closing process can all be complicated. If you are interested in buying or in a search for homes for sale in Annapolis, keep reading to learn more about the area and what goes into purchasing your dream home.
Why should you buy a house in Annapolis?
Annapolis is a stunning, quaint suburb with an old-time charm. The area is suited to a wide range of lifestyles with the ideal blend of stunning natural spaces, waterfront vistas, and access to the city.
Easy access to the city

Those living in Annapolis do not have to sacrifice access to major cities to live in this peaceful, charming community. Annapolis is ideally within commuting distance from Washington, D.C., and Baltimore, making it a great place for professionals looking to escape the bustle of major metropolitan areas. With Baltimore just 40 minutes away and Washington, D.C., just under an hour, both cities are easily accessible within a short drive.
Waterfront living

Annapolis is right on the banks of the stunning Chesapeake Bay. This opens residents up to the unique charms of a coastal community. The Annapolis area is home to numerous yacht clubs, a sailing school, and gorgeous stretches of sandy beach. If you are looking for an oceanside property, there are Annapolis waterfront homes for sale regularly.
Home to the U.S. Naval Academy
The
United States Naval Academy
is steeped in the culture of the town. Since 1845, this institution has been a fixture in Annapolis, turning young men and women into officers who will serve in the Navy or Marines. The academy brings numerous recreational opportunities to Annapolis. Residents and guests alike can enjoy a tour of the stunning campus, learn the history of the U.S. Navy at their museum, and even enjoy a Broadway show. The Naval Academy Commissioning Week occurs each spring, bringing celebrations for the whole town to enjoy.
Best neighborhoods in Annapolis
Annapolis is home to several distinct communities. Each one comes with its own charm and a unique set of amenities. Before committing to Annapolis, learn more about the neighborhoods that make it a great place to live.
Downtown Annapolis

Historical Downtown Annapolis brings the charms of small-town living onto one vibrant street. Even though this is the bustling center of Annapolis, it still boasts a serenity and quiet that sets the area apart from other cities. Residents can enjoy a mix of one-of-a-kind local shops and eateries, high-end boutiques, and fine dining institutions. Living in Downtown Annapolis puts the area's unique venues at your fingertips.
Historic Annapolis

Annapolis has a rich history that stretches back to the dawn of this country. The area's unique historic charm is best seen in the historic district of Annapolis. Here, the hallmarks of the city's past are still clearly viable for residents. The unique look of the community is made up of stunning 100-year-old brick mansions and historic townhomes and row houses.
Eastport

Access to the ocean is one of the main reasons residents choose Annapolis. Eastport locals wake to stunning sunrises over the sea and have the beach just a short distance away. The area boasts a nautical charm and a mix of local restaurants, shopping boutiques, and beachfront homes.
What to know about buying a house in Annapolis
Annapolis is a great place to call home, with many local attractions and close-knit neighborhoods. If you feel ready to take the plunge and relocate the charming Annapolis, keep reading to learn more about what you should know about buying in the area.
Median house price
Annapolis is home to an array of housing options. You can find breathtaking million-dollar mansions, quaint single-family homes, historic bungalows, and beach houses in the area. The median price for a property in Annapolis is
$629,000,
well above the state average. Expert local realtor Mary Beth Paganelli currently has about 100
listings available for homes for sale in Annapolis
; with a diverse selection, residents can find a home that fits their needs.
Closing costs
Buyers can get so wrapped up in the price tag that they forget to factor in closing costs. Closing costs are paid by both the buyer and seller and are meant to cover all the expenses associated with the home's sale. The buyer and the seller pay for different aspects of the sale. Buyers in Maryland should expect to pay
between 2.93% and 3.9%
of the sale price in closing costs.
Property taxes
If you want to buy a home in Annapolis, you may want to keep tabs on property taxes. Because the median home value in Maryland is above the national average, owners can expect to pay more in property taxes. However, Maryland's average effective
tax rate is 0.99%
, the national average.
Money-saving tips for buying a home in Annapolis
No one wants to spend more than they have to. Luckily, if you are looking to buy a home in Annapolis, there are a few things you can do ahead of time to help keep costs as low as possible.
Make a substantial down payment

It is generally recommended that buyers put down at least 20% on their new home. However, paying more upfront on the house can help you limit the amount of money that will need to be financed to cover the price of the home. Many lenders will give buyers better interest rates if they put more money into the house. This can help save thousands over loan repayment and give you a lower monthly payment.
Use a commission rebate to save money
In some cases, buyers can get a homebuyer rebate after a successful sale, saving them money on the overall transaction. As the internet becomes more prevalent in helping buyers find homes, buyers agents are having to spend less, meaning they can pass some of the savings on to their customers.
In Maryland, buyers can get two different types of rebates. Cashback will give the buyer a rebate in cash or a check, while closing credits provide rebates in the form of credits that can be applied to closing costs.
Before you start your Annapolis homebuying journey or searching for
homes for sale in Annapolis
, be sure to have an
experienced local realtor
on your side.
Contact Mary Beth Paganelli
to get started with an agent that specializes in the Annapolis area today!
*Header photo courtesy of Shutterstock